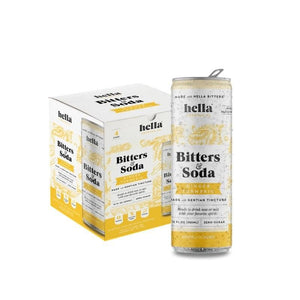 Hella Bitters & Soda Dry Ginger Turmeric Individual Can
Bitters & Soda is a premium sparkling non-alcoholic apéritif that gets its smart, refreshing flavor from a Gentian tincture cultivated in the South of France.
Now, all the herbal benefits of ginger and turmeric are combined with the settling and bracingly bitter taste of Hella's Zero-Sugar Bitters & Soda. The bite of ginger is just enough to quench your thirst for something grown up and sippable without any alcohol.

Or, go ahead, mix it with a splash of whiskey if you're feeling frisky.