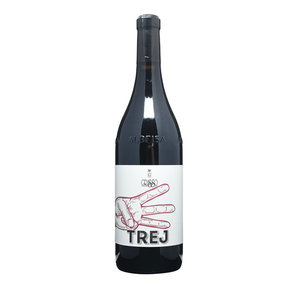 Fratelli Grasso "Trej" Red Blend NV, Piedmont, Italy
TREJ is Barbera, Nebbiolo and Dolcetto in equal parts.

The brothers Luigi and Alfredo Grasso started in the vineyard in 1970 and continue to actively cultivate 14 hectares. The Grasso Fratelli farm is located in Valgrande in the municipality of Treiso, in the heart of the Langhe, a typical area known for the cultivation of the vines from which the best and prestigious Piedmontese wines are born. In this area, nowadays very popular also for its splendid nature, the Nebbiolo grape variety from which Barbaresco wine originates is cultivated with particular care.