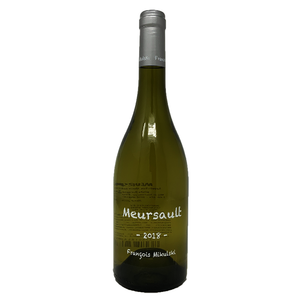 2018 Francois Mikulski White Burgundy, Meursault, France
Chardonnay

François' Mikulski's father was Lieutenant Mieczyslaw Mikulski who escaped from occupied Poland in 1939, fleeing to England and joining the Resistance troops of the Free Polish Forces. There he met his future wife, a Burgundian woman working on an English army base, and moved to Brussels where François was born and raised. Luckily for us and the world of wine, François spent his formative summers in Burgundy, where he fell in love with the agrarian lifestyle and determined that he would one day make wine himself. He inherited his first plots of Meursault in 1992 from his late uncle, Pierre Boillot. Since that time, he has relentlessly pursued his authenticity, purity and elegance through acute attention to biological balance in the vineyard and terroir minded élevage practices in the cellar.

This outstanding village Meursault is made with fruit from four parcels - Pelles, Pellans, Meix Chavaux and Chaumes de Narvaux - and "represents the appellation in its entirety", according to Thomas Boccon. Taut and elegant, with some leesy weight, elegant 15% new wood and flavour of brioche and lemon tart. Drinking Window 2021 - 2028.