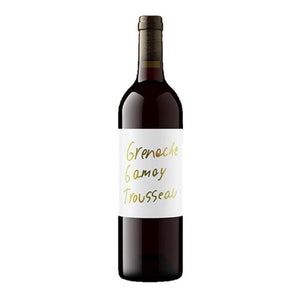 2022 Stolpman GGT Red, Ballard Canyon, California
Grenache, Gamay, Trousseau

Cherry Cherry Cherry - spanning from hard candy to bright Rainier - into bright, banging Pomegranate.  Savory Trousseau tea leaves back the pure red fruit and Gamay lends depth and crunch.  A citrus spray layer of energy rides above the fruit profile and bonds the three varietals under its high-toned webbing.  Youthful tartness and a tannin back-board structure the wine to create something more serious than just a delicious day-time masher.

Winemaker's Note:
We first experimented with fermenting Grenache un-crushed, whole grape, or "carbonic" in 2018 for our Own Rooted Field Blend cuvee.  Because the Grenache fermented with other varietals, we didn't have the chance to taste it alone, but we loved the red fruit purity the Grenache lent to the blend.  In 2020, we decided to isolate one Grenache carbonic tank, and it was indeed as pure and delicious as we imagined.  But almost too so!  To lend nuance and complexity, we added a dollop of Gamay and Trousseau as these light bodied varietals wouldn't add weight to the feathery, chill-able profile.  We allocated the tiny 2020 production to one of our favorite local restaurants, Full of Life Flatbread in Los Alamos, and frequently found ourselves drinking multiple bottles over pizza in the restaurant's garden.  The next vintage, we decided to make this blend an official SO FRESH wine, and here we are!