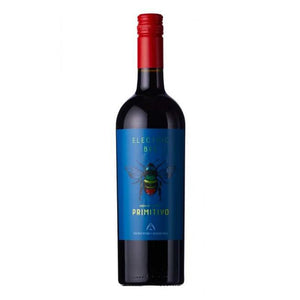 2021 Produttori di Manduria Electric Bee Primitivo, Puglia, Italy
100% Primitivo

Produttori di Manduria is the oldest co-op in Puglia. It's made up of tiny growers, 130 small estates held to the highest farming and operating standards in Italy. They're certified organic and have 3E certification which verifies labor and carbon footprint standards. Located on the heel of the boot of Italy (if you haven't looked at a map of Italy lately you should, it's great), Manduria is considered the birthplace of the native Primitivo grape. Primitivo is the Italian cousin of Zinfandel and can often get too big, flabby and high alcohol in the hot Puglian sun. This wine, however, comes from 15-35 year old vines and was fermented in stainless steel to preserve the freshness of the fruit. Fun fact, Primitivo was brought to Southern Italy in the 17th century from Croatia. In the 19th century the grape then made its way to California, where it was renamed Zinfandel!

Thanks to the growers' early picks and conscious efforts to maintain acidity, this wine is bright and refreshing, retaining acidity and also all of the ripe, juicy flavors for which Primitivo is known: juicy cherry, blackberry, zingy blueberry, black plum. Pairs well with hearty, meaty pasta dishes with rich red sauces. It makes the best BBQ wine -- pair with anything from the grill.