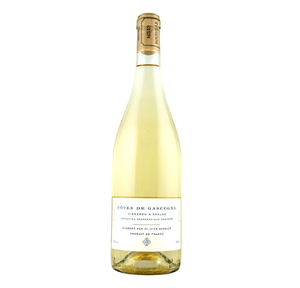 2021 Mary Taylor Olivier Gessler White, Cotes de Gascogne, France
50% Colombard, 20% Ugni Blanc, 20% Gros Manseng, 10% Sauvignon


IGP Côtes de Gascogne shares the same land surface as Armagnac, in the beautiful French Southwest. The Gessler family settled here, in the heart of Bas-Armagnac, in 1928. They're now on the 4th generation – a robust family business with 20 full time employees. This is one of the more thoughtfully farmed properties – registered HVE 3 and in organic conversion. They tend to indigenous varietals such as Colombard, Ugni Blanc, and Gros Manseng, from which this wine is made. Bordering the enormous Landes pine forest and wedged between the Atlantic and the Pyreneés, the vines breathe pure air and oceanic winds mixed with a warm foehn wind from the Saharan Desert. Colombard is the offspring of Chenin Blanc and Gouais Blanc. This makes the grape the sibling of the Armagnac Meslier-Saint-François and the nearly extinct Cognac grape Balzac blanc. Tart and fruity Ugni Blanc is also known as Trebbiano. Gros Manseng is a dry varietal found in Jurançon wines.
Wine merchant Mary Taylor started Mary Taylor Wine because she didn't think you should have to be a serious wine expert to experience the kind of honest, authentic wines that the Europeans have been enjoying for centuries. She works with terroir-driven, sustainable, interdependent, biodiverse, in-clusive, affordable village-wines from growers and farmers.

Fragrant with fruit and flowers, this is an aromatic wine that offers a sumptuous body—but still a palate that is tart and dry. Great as an aperitif, with sushi, fish tacos or just to sip!