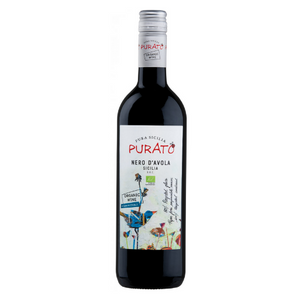 2020 Purato Nero d'Avola, Sicilia, Italy
100% Nero d'Avola
The nose reveals intense fruity notes of blackberry and blueberry compote, together with smoky and spicy notes. On the palate it is extraordinarily round and complete, with a natural and effortless balance of tannin and acidity, structure and length. 
With the benefit of a completely fresh start, against a background of multi-faceted and far reaching experience, Stefano Girelli (Italian) and Peter Kosten (Dutch) got together in 2009 to create a new kind of wine company. Enter Purato! Nero d'Avola, meaning "The black grape of Avola," thrives in Sicily and makes a rich, perfumed and velvety red wine that is easy to drink but that can take a bit of aging. This wine is made with certified organic grapes
and is "Green to the Extreme" as it ticks each and every sustainable, eco-friendly box. Super-sustainable, the wines are: carbon-neutral, vegan-friendly, and packaged purely in recycled & recyclable materials. No artificial fertilizers or pesticides are used in the vineyards. A sexual confusion pheromone tactic and limited treatments of copper and sulphur prevent pest damage. In order to preserve valuable water, undersoil irrigation is used to minimize evaporation. Puratos environmental commitment extends into the winery - they use eco-friendly packaging, made from recycled paper, pure vegetable ink on the labels and 85% recycled glass for the bottle.
Pair this with p
astas with tomato based sauces, barbequed ribs and grilled steaks!