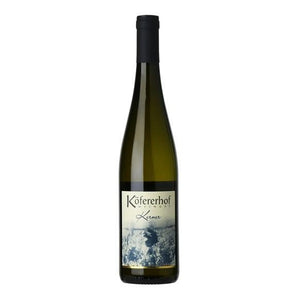 2020 Kofererhof Kerner, Alto Adige, Italy
100% Kerner

Kerner is a grape that was bred by the crossing of two well known grapes Schiava and Riesling.

This wine is dry, complex, and aromatic. The first wiff is of wild flowers and honeysuckle which you taste immediately on fist sip. You'll find notes of elderflower, stone, and tropical fruit balanced with acidity that lends this wine to be enjoyed with food or as an aperitif. 

"Weingut Köfererhof is one of Italy's smallest and best white wine producers. Just about any grape variety owner Günther Kerschbaumer touches turns to gold. Over the years, he has fashioned remarkably delicious and age worthy wines from the likes of Sylvaner, Riesling, Kerner, Müller-Thurgau and other varieties"—Ian d'Agata, Vinous

Total production for the estate is only around 3,500 cases of wine per year!