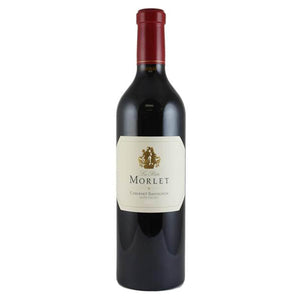 2017 Morlet Family Vineyards Les Petits Morlet Cabernet, Napa Valley, CA
100% Cabernet Sauvignon

From the winemaker: "Growing up the children of a fifth-generation French Winemaker, Paul and Claire Morlet spent much of their childhood exploring vineyards. From the time they could walk, Luc shared his knowledge and passion about viticulture and winemaking with them. Their youthful enthusiasm and appreciation for their father's talents continued to grow as they both entered their teenage years. Named in honor of our children, 'Les Petits Morlet' represents their passion, optimism and future. "

Displaying a very intense bouquet of black currant, candied red and black cherries and mocha, intermixed with hints of blond tobacco leaves and earthy notes of leather and toasted red pepper. This wine possesses youthful, yet sweet tannins and is characterized by its overall richness, suave character and approachability.