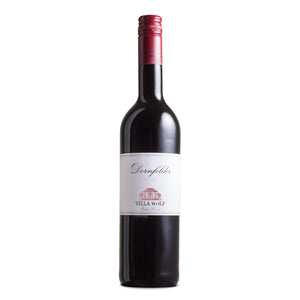 2020 Villa Wolf Dornfelder, Germany
100% Dornfelder
Founded in 1756, in the Pfalz region of Germany, the J.L. Wolf estate (now called Villa Wolf) was a successful and highly regarded winery for more than two centuries. It entered an especially glamorous era with the construction of its Italianate estate house and villa in 1843.


In the latter years of the 20th century, however, the estate languished, lacking a firm hand to guide its wine production. Ernst Loosen, of the Dr. Loosen estate, took over the vineyards in 1996, launching a dramatic turnaround in the estate's quality and reputation.

Since 2011, the estate has been managed by a talented and dedicated young team that previously worked at Dr. Loosen. Sumi Gebauer and Patrick Möllen­dorf have brought renewed energy and focus to the viticulture and winemaking at Villa Wolf.

Villa Wolf Dornfelder is a fruity, medium-bodied red wine with flavors of plums and cherries balanced by velvety tannins. It has an intense color and pairs well with a wide variety of foods.